Sunrise, Sunset
Sunrise Sunset….
I wish I slept like a normal person.  I will go days where I sleep no more than 2 hours a night.  Followed by days where I can't stay awake past 8 pm and will sleep until 8 am…if the spawn shut the hell up and Dr. Evil doesn't fluff the bedspread eight times…then follow it up with rearranging his pillows 84,000 times during his nighttime 'get-comfortable' ritual….which can occur anywhere from 9:30pm to 1am depending on what he's got going on.
Then there's the fun ones – the ones where I fall asleep too early – like 9pm – and am wide awake from 1am to 5am.  I get a lot of books read during this time.  I can't do laundry during the night as the machines are over Eldest Spawn's room and like me, he's a light sleeper.  I can't clean the kitchen because the dogs hear the water and come running like there's a rabbit to chase….in turn waking up various spawn…who wake up other spawn…who still don't get Dr. Evil to wake up…pissing me off even more (usually annoyed I can't sleep but can't get anything done to make the next day easier since I know I'm going to be tired)…making it harder yet to sleep.  Yeah…I get a lot of books read between 1am and 5am.  I try to stay off the computer because that's a guaranteed no-more-sleep night….once I'm on….I'm sucked in.
I've given up caffeine.  I've tried melatonin.  I have a prescription to help – hate it.  I've tried Tylenol pm.  I've tried a beer.  I've tried wine.  I've tried abstaining from all of these things.  I've tried working out at night.  I've tried working out in the mornings.  I've tried complete darkness.  I've tried having a radio on.
Problem is – when I'm tired, I've overly emotional.  In the middle of the night…..when I don't sleep I think about what could have happened.  I think about what did happen.  I find myself back in time – worrying about what was going to happen.  I occasionally fall asleep only to wake up in a cold sweat worried about the sounds the monitors are making in Dr. Evil's hospital room.  Which one is it?  His heart monitor – dialysis machine?  The ventilator?  What is the sound?!?!  Oh yeah – it's my watch alarm going off because it's 5:45am.  I'm on the couch in my living room with a dog looking at me like I'm as crazy as I feel.
When this happens multiple nights in a row, I find a reason to NOT sleep.  I don't want to dream about that.  
….Down comes a rested Dr. Evil followed by three spawn wandering down in random states of alertness.  Eldest Spawn meanders up from the basement.  And I seek my coffee.  STAT.  Or if my mood is really off – bring on the Diet Dew – or whatever brand of poison I have in the fridge.
Then…the migraines arrive.  Yay oh yah – happy day.  Because then….I have to go to bed.  I have to take some medicine.  I sleep usually about 12 hours after downing about a gallon of water.  And I just sleep.  Usually deep, deep sleep where I don't remember my dreams upon waking.  Yeah – the migraine hangover headaches suck.  But at least I got some sleep and we can reset the clock again.
Theme Thursday's theme : Early Birds, Night Owls…….  I went a little off the cliff with this one – I didn't mean to – just sort of happened.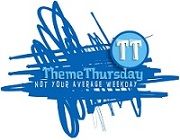 Go check out the other Theme Thursday awesomeness.  Jen at Something Clever 2.0  – along with The Next Step, The Insomniac's Dream, and Mom With Her Running Shoes On host Theme Thursday every week.  They're amazing and if you're not following them – what's WRONG WITH YOU!?!?!?  Just kidding – but going follow them!!