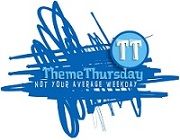 Summer is Approaching…Summer is Approaching.
Do you think of summer vacation as a trip … or a period of time where your spawn are not in school?
Last year, we didn't go anywhere big….just camping.  In the camper Dr. Evil purchased as part of his 'screw you I lived!' campaign.  We didn't get the camper until late July and still managed to get 4 trips in before school started.  It was pretty good – a lot of learning – a lot of fun – and a lot of plans made for repeat trips!
However, the other definition of summer vacation : spawn out of classes.
So…with the rose-colored glasses I'm currently wearing, we'll be going to the beach (man-made Lake Elmo – we live in the midwest people).  We'll go the library (once I pay off the fine I have for returning a book the spawn decided to leave in the rain).  We'll have picnics and hike at the local Willow River State Park.
Baseball, softball, machine pitch 2 softball, and t-ball will be a treasured time where I will be able to make all the games and get everyone everywhere with the required equipment and clean uniforms.  The concession stocking and cleaning won't be that bad and it's sort of fun to deliver buns to 3 locations as far across town as you can get every. single. week.
We'll work on maintaining the knowledge they gained at school in the current year by reviewing and reading daily.
–reality check—
Dr. Evil is still traveling a lot for work.  A lot.  Like 4 or 5 days a week, every week, from here to California.  When he is home, he's juggling his work responsibilities, Booster board and webmaster responsibilities, our spawn activity load – especially Boy Scouts, and dealing with me.  Who is typically okay with the travel.  Except when I'm not.  When I'm done.  When I'm grumpy the last thing tended to on that list is me.  But I digress.
Baseball and softball (times 3) practices will inevitably conflict.  With only one of me and four spawn – none of which are old enough to drive – that makes for a lot of hurrying up and waiting – get to one practice – wait through it for the next one to begin. Thank God for good friends.  And clean uniforms – are you kidding me?!  They're lucky if they have the right color of shirt on – we have so many from playing for multiple years on multiple teams I often forget which shirt is the current shirt and which is used for sleep clothing!  The beach is often met with resistance from Eldest Spawn who wants to sit home and play video games.  The library – every summer I have great intentions…which fall by the baseball-side every year.  And Willow River – we'll go there – and fight the mosquitos.  But man – it is beautiful – hiking there is amazing.
Honestly, I like summer.  But I feel the pull of being super mom even more in the summer.  There's a lot of kids who spend summers going on great trips or attending wonderful camps.  We spend the summer hanging out, swimming in our pool (which we set up in June), and jumping on the trampoline.  The slip and slide works great here because the yard is mostly flat (and poop free) so they can really fly…especially if you add just a touch of dish soap.  We will take the camper to places close by and hike and ride bikes and swim.  I let them watch television during the hot parts of the day and sometimes even more than that.  I try to plan trips to fun places in the cities…sometimes it happens, sometimes it doesn't.  I hope my spawn remember the times we spend together…the everyday fun we have.
I hope my spawn remember summer fondly.  I hope they enjoy the time we have together.  I know I do.
(most of the time)
EJ out – to run so I can play and get ready for visiting Dr. Evil in California!
This is part of Something Clever 2.0: Theme Thursday – a multi-blog collaboration. Click the button above to read posts from other bloggers, or to add your own.
You have got to check out Something Clever 2.0.  Aaaaaa.mmmazzz.balzzzz.
And if you're feeling the love, click on the juggling flashing lady up there.  One click.  You'll be redirected to the Top Mommy Blogs website.  You're done then.  You can close the window … or you can browse around and find some more awesome blogs to follow!  Thanks!